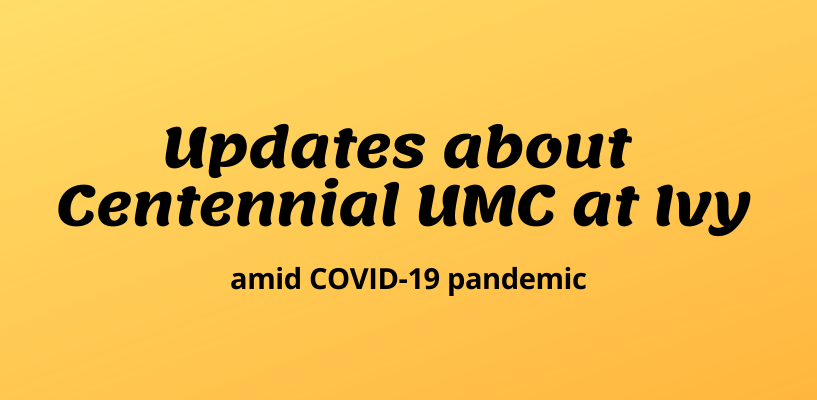 Important links:
Stay connected with us as we worship online. We worship on Wednesday evenings at 7pm or Sunday mornings at 10:30am on our YouTube and Facebook pages. Click on one of the words below and they will link you to the correct website. You can worship with us on Facebook
(click the word "Facebook" below).
Or you can worship with us on YouTube
(click the word "YouTube" below).
Find weekly worship bulletins, hymns, & previous worship services here.
Have a prayer request? Email Pastor Dani or click here.
Want to financially support Centennial UMC at Ivy online? Click here.
updates sent on wednesday, april 1, 2020:
Beloved people of Centennial UMC at Ivy,
We continue to live in an uncertain time as we receive news each day about the spread of COVID-19. It's only been a couple of weeks since we gathered last, but sometimes it feels like months! I'm praying that we will physically gather again soon.
I met again this week via phone with some of our church leaders to make decisions for our church in the midst of the COVID-19 pandemic. We have prayerfully continued to cancel or postpone all in-person events, gatherings, and worship services at Centennial UMC at Ivy until Monday, April 13. We are choosing to make decisions concerning this pandemic only a couple of weeks at a time as we hold on to the hope of gathering again soon, while also realistically understanding we may not gather physically for some time.
I hope you're learning and adapting alongside me as we try out new ways to stay connected with one another. I pray that folks are reaching out to you, that you're reaching out to others, and that you're staying connected to our online worship either through our YouTube or Facebook pages. Find all of our links and find updates on our website: ivycentennial.org. Join us for worship tonight Wed, April 1 at 7pm and this Sunday, April 5 at 10:30am for Palm Sunday. We post other videos and updates on our website, YouTube, and Facebook, including a new Bedtime story on Thursdays at 7pm.
As you consider continuing to financially support the ministries of Centennial UMC at Ivy, know that you can by sending your gifts via mail to: 9150 NE University Ave PO Box 624 Altoona, IA 50009 or on our new online giving page found on our website or by clicking here.
We are all trying our best to keep one another updated and connected. If you have questions, always feel free to reach out to one another or to me via email (pastordanim@gmail.com), or text/call 515-447-0497. I give thanks for the prayers and messages folks have already sent my way! Our leaders and I continue to keep you and your families in our prayers.
With gratitude for you,
Supporting Heifer International:
One of our missions projects during this time of year is to support Heifer International. You can still support them in a few ways:
1. You can learn more about their ministries here.
2. You can download a Read to Feed coloring book for you and your families to learn more about their ministries here.
3. Donate to their ministries on their website.
4. Pray for the ministries and people who make the ministry happen at Heifer International.
updates sent on tuesday, march 17, 2020:
Beloved people of Centennial UMC at Ivy,
Each day, we're receiving more information about the spread of COVID-19, the importance of social distancing, and more. It's easy to feel overwhelmed and isolated at this time. Our leadership has been in prayer for you and your families.
A group of church leaders and I met last night to discuss how we will continue to be in community with one another during this time. After prayer and thoughtful reflection, we are cancelling all in-person gatherings, events, and worship services between now and March 31. Our leadership plans to meet again on March 30 to determine if we will continue our April events, but as you know, we will have to wait and see how our country and our world continues to react to the spread of the virus.
While we are not meeting in person, we are still connected. Our church building may be closed, but our church is not. We are simply learning new ways to be the church in this time and I invite us all to be thinking creatively about how we can stay connected. Here are some of the things we'll do to stay connected:
Online worship:
This past Sunday, we Live-streamed our worship service to the church's Facebook page and so far have had over 150 views. I'm grateful for the in person and online presence we had this past Sunday. We will continue to post online worship experiences to our Facebook page and to YouTube. You can find the links to our worship services on our church website: ivycentennial.org. You'll be able to find any links mentioned in this email through our new page on the church website titled "Updates about Centennial UMC at Ivy amid COVID-19."
I will continue to post worship devotions, prayers, and sermons for Wednesday evenings at 7pm and Sunday mornings at 10:30am. You do not need a Facebook account to access the livestream if you click on the link at the time of worship and you do not need a YouTube account to access the video links at any time. You can join us at the time of worship on Facebook or Youtube or anytime afterwards on the YouTube page. To join us, you'll find and click on either the Facebook or YouTube link on our website.
Hospitality team:
Last night, we also began assembling a hospitality team, which is a group of at least eight of us who will be focused on staying connected with one another during this time. The hospitality team will have someone dedicated to contacting your household each week via email, phone, card, or some other form of communication. That person will reach out to see how you are, find out ways to pray for you, and offer to run an errand for you if they feel well enough to do so. Please let Pastor Dani know if you're interested in supporting the church by serving on this hospitality team.
There are many ways for you to inform us of your prayer needs. If you have a prayer request you'd like said during the online worship service or for the pastor, please inform the person from the hospitality team who has contacted you, send an email to pastordanim@gmail.com, text or call 515-447-0497, or fill out our request form on our website.
Your support:
While we are reducing some costs related to our church building in the weeks to come, many of the expenses of the church will continue even if no meeting or event is held in the building for two weeks. Please consider the church in your continued prayers and giving. We invite you to mail in your offerings to 9150 NE University Ave PO Box 624 Altoona, IA 50009 or to begin offering online. You can find our new online giving page on our website when you click "Give Now" in the website menu or you can use this link:
In times such as this, we know that all plans are subject to change. The leadership and I want to keep you as informed and connected as possible in the days and weeks to come. I don't know when we will gather in person again as a community, but I do know that during this time:
We will continue to care for one another.
We will continue to pray for each other.
We will look out for our neighbors and the Ivy community.
And God is and will be with us through the journey.
With peace and grace,
Pastor Dani Musselman
Centennial United Methodist Church at Ivy